SUPER SILENT POWER BY CUMMINS (50HZ)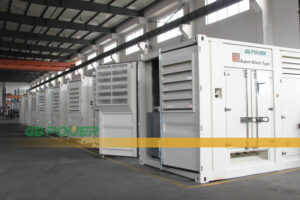 CUMMINS engines. Through near ten years of cooperation with CUMMINS, GB C series with its high reliability, low cost for use and maintenance to win the loyalty of many customers in the field of Army, transportation engineering system and mine industries. Established in 1919, headquartered in Columbus, Indiana, (USA) Cummins Inc, serves customers in more than 160 countries and territories through its network of 680 Company-owned and independent distributor locations and more than 5,000 dealer locations. As the largest foreign engine investors of China, Cummins possess Chongqing Cummins Engine Co., Ltd (produce M, N, K series engine) and Dongfeng Cummins Engine Co., Ltd (produce B,C, L series engine) and produce CUMMINS engines with globally uniform quality standard.
SUPER SILENT POWER BY PERKINS (50HZ)
GB super silent type power by PERKINS is designed by GB Power own, the noise level isd just 56-58db at 7 meters away (normal silent type noise level 75db at 7 metres away), which is suitable for hospitals, telecom company stations, hotels and living area. The brands of our Engine are Perkins, Yanmar and GB power, alternators are Stamford and Lerosomer, control system is Deepsea.After testing during the past years, our super silent design can run smoothly even in fierce weather condition. Especially in Africa and Middle East countries, our super silent enjoys high reputation.
SUPER SILENT POWER BY ISUZU (50HZ)
Founded in 1916, ISUZU Motors has the longest history of any Japanese vehicle manufacturer. For nearly 70 years, ISUZU has been pioneering numerous technological innovations in the diesel engine field. With a cumulative total production of nearly 19 million diesel engines from its foundation, ISUZU is poised for sharpening its edge as the leading diesel manufacturer.
SUPER SILENT TYPE POWER BY YANMAR (50HZ)
GB YM series generator set, using Yanmar engine as power, Yanmar(Janpan) was founded in 1912 and developed the world's first commercial viable small diesel engine in 1933, due to the compact design, easy to operate, enviromental friendly, low fuel consumption, this series generator set are suitable for super silent design, which are popular for hospitals, telecom company stations, hotels and living areas.